* * * * * * * * * About The Author * * * * * * * * *
Joseph Marx is currently a cancer researcher and independent writer. He has a B.A. from George Washington University, and a M.S. from the University of Colorado, Boulder, Center for Advanced Training in Engineering & Computer Science, and an extensive background in technical research, writing and speaking. As a former Navy Officer, he served as a Navy Flight Officer, an Intelligence Research-Analyst, Briefer and Writer, and an Aerospace Engineer. He subsequently worked at Bellcore and Lucent Technologies as a Senior Consultant and Systems Engineer. He authored various White Papers, Business Requirements and Design documents for multi-service networks, and spoke at Industry wide conferences. He is a former High School Science and Mathematics Teacher, and an Adjunct College Instructor. He prides himself in the ability to take complex topics and break them down in easy to understand ways. He has four children and lives with his wife Kelly in Florida. His hobbies include reading, exercising, sailing, fishing, hiking and International travel.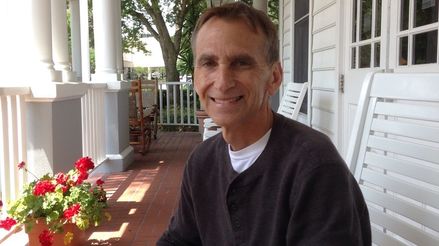 When the solution is simple, God is answering.  
                                            ––Albert Einstein 
Victory Over Cancer! Vol 1:
     "How To Take Control And Live"
The Second Edition was released March 20, 2018
* * * * *
After years of chronic acid reflux, the author discovered he had cancer of the esophagus, which rivals lung, liver and pancreatic cancer in lethality.
After failing chemo, radiation and surgery his cancer progressed to Stage 4 metastatic-esophageal cancer. In his desperation he turned to a combination of alternative and nutritional therapy. This book shares what the authored uncovered that allowed him to survive his cancer.
One of the most important things the Author exposes is how to exploit the metabolic abnormalities of cancer in a smart way, using targeted nutritional and natural supplement therapy. More importantly, this book will give options and hope to those who don't know what to do and are desperate to survive their cancer. 
Victory Over Cancer! Vol 2:
"Acid Reflux And
Esophageal Cancer"
Released June 2, 2018
* * * * * 
Vol 2 contains all of the important information found in Vol 1,  but extends the book into much more information on acid reflux and its progression to esophagitis and other conditions, Barrett's Esophagus, Dysplasia, and ultimately Esophageal or Laryngo- pharyngeal (LPR) cancer, as well as the associated treatment  options during its progression.    
Every effort has been made to ensure that the information found on this website is accurate. However, the author is not engaged in provid-ing professional advice or services to the reader. The ideas, views and suggestions contained on this web-site are not intended to act in place of, or substitute for, consul-tation with a physician. All matters regarding the reader's health require medical supervision by a licensed health professional. Neither the author or any contributor to the information on this site, shall be held liable or responsible for, any loss, injury, or damage allegedly arising from any information or suggestion found on this website, including any of its books, Blog articles, or other information.