This is a really fun read, even for those who have never read a Young Adult Romance Novel, like me. It is faith based book and is wholesome and clean, which might be a breath of fresh air for some.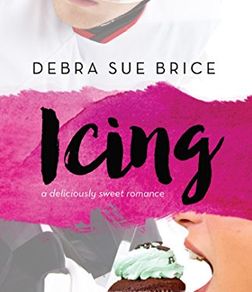 Icing
Published November 29th 2016 by Wavecloud Corporation
Some people can only dream of living out their fantasies. Cupcake shop owner Denie Shaw is the exception to the rule. This young, witty and charming woman seems to have a perfectly balanced life.

Years of making bad relationship decisions had given Denie, owner of Icing, the opportunity not only to become a strong, successful business woman, but also managed to involve her three best friends in her crazy cupcake adventures.

Denie's sweet life gets turned upside down when she meets her crush, Tom Billingsly, right wing for the Cleveland Monsters hockey team. Together, Denie and Tom strike up a relationship that seems to have all the right ingredients.

Will Denie allow the fear of heartache to guide her choice, or will she take the leap of faith and trust God to provide a solid recipe for her life?
REVIEWS
Icing by Debra Sue Brice is a lovely, deliciously sweet romance of a young, strong business woman who has found success in the world of baking and owning a cupcake shop called Icing. Denie keeps her social life busy with her twin sister and best friends, hanging out and enjoying the Cleveland Monsters hockey games. Besides the hot dogs and bottomless popcorn, she develops a crush on Hockey super star Tom Billingsly. Never thinking that anything would develop since first, her past relationships h 
...more
Feb 21, Joseph Marx, Rating 5 Stars
 

Review

To be honest, I have never read a Romance Novel in its entirety before, and was extraordinarily surprised at how much I enjoyed reading this one. In fact, I couldn't put it down because it was so engaging and so easy to read. It is packed with numerous little twists and turns, surprises, and plenty of humor along the way. The characters and their interactions are so real and well crafted that they allow the reader to simply let go, and immerse themselves in the story. The author does an expert job at exposing the deep things of human relationships, and how frail we become after experiencing repeated rejections in dating relationships. She also shows how our faith and patience can lead us down a path of restoration and victory. As I read this book I smiled a lot and even got a few tears in my eyes. This is a must read for men who want to gain insight into the heart of a Godly woman, and what it takes from a man to win her heart. I loved this book and highly recommend it!